Finalists of the 3rd GBN Global Benchmarking Award 2014
The 3rd GBN's Global Benchmarking Award was held at the Abu Dhabi Chamber of Commerce and Industry on 24th/25th November 2014. The award recognizes organizations that show how benchmarking (comparing and learning from others) is an integral part of their organization's improvement and innovation drive. An organization's benchmarking approach is assessed on 4 perspectives; Leadership Commitment, Pervasiveness of Benchmarking, Formality of Benchmarking and Results Achieved.
The winner and runners-up were:
Winner:
Our Benchmarking Approach, April Kwek, Assistant Vice President, Consumer Credit Risk Management Department, OCBC Bank, Singapore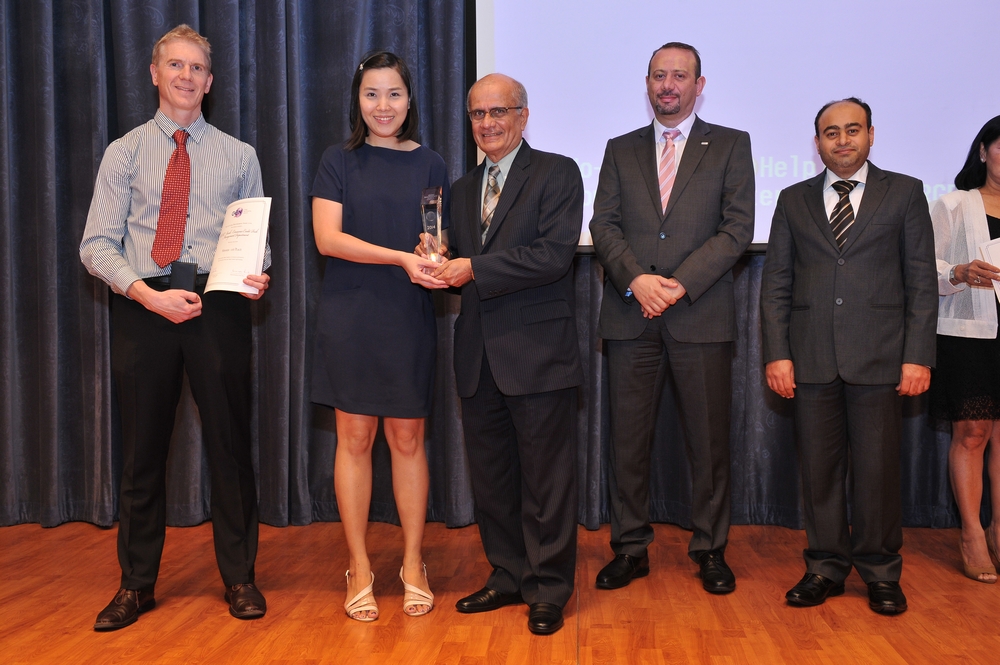 Runners-up:
Our Benchmarking Approach, Jacqueline Landicho, Human Resource Management Officer, City Government of Tanauan, Philippines
Our Benchmarking Approach, Leila Kuhpaee, Planning Manager & Management Representative, Sehat Industrial and Trading Co., Iran

Human Resource Management Officer, City Government of Tanauan, Philippines

Planning Manager & Management Representative, Sehat Industrial and Trading Co., Iran
The judges for the final, representing the GBN, were:
Ahmed Abbas, Bahrain Society of Quality, Bahrain
Suresh Lulla, Founder, Qimpro and BestPrax Limited, India
Hani Shaqlusi,  Director  Training &  Consultancy Division,  Abu Dhabi International Centre for Organisational Excellence, UAE
This was the 2nd time that OCBC Bank had reached the final.
OCBC Bank is the second largest financial group in South-East Asia by total assets, currently ranked 4th among the World's strongest banks by Bloomberg. With a vision to be the Best Risk House in Asia, the Consumer Credit Risk Management (CCRM) department aims to achieve excellence by adopting best practices that drive retail risk management. Benchmarking thus forms a vital tool to identify areas for improvement, bring about innovation thus aiming for best in class performance.
The OCBC Consumer Credit Risk Management has demonstrated a relentless commitment to improvement and pursuing best practices through benchmarking with outstanding results. Highlighted below are two transformational projects that brought about outcomes previously unseen of.
The first project, Project BEE (Build Employee engagement) took its roots with a long struggle to improve engagement levels. Not constrained by industry the team visited organizations from IT, a Big Four Accounting and Consulting Firm, insurance and oil and gas. The project learning helped to broaden the team's understanding in this area which led to game-changing ideas such as the incorporation of people values such as FAST (Fostering team spirit, achieving excellence, showing appreciation, taking ownership).
The second project helped OCBC to accomplish the formidable task of embracing a service excellence culture in a collections environment through focusing on 3 areas including handling difficult customers, customer delight, and partner management. Government boards, libraries, and hospitals were tapped for learning best practices. Through this project, OCBC now applies active listening, show empathy and walk with our customers in times of difficulties.
OCBC's performance benchmarking approach includes the following steps: Select, Validate, Analyse, Share and Recommend. For best practice benchmarking OCBC use the TRADE Best Practice Benchmarking Methodology. The project teams define the criteria to guide partner selection. The approach used is documented and shared on the intranet for easy reference. Regular training is conducted on the approach. Each benchmarking project is facilitated by an external advisor from the Bank Quality and Service Excellence department who bring with them greater experience and knowledge and also help the teams with partner selection and linkup.
Since 2010 OCBC's Consumer Credit Risk Management Department have undertaken over 20 best practice benchmarking and quality projects with more than 40% of staff being involved and trained in benchmarking. This has assisted them to achieve the following results:
Employee Satisfaction Score – 13% improvement
Customer satisfaction – 11 % increase
Customer Complaints – 30% decrease
Productivity – Consumer approvals unit productivity gain 22%
To see more visit the Website of the Global Benchmarking Award – 3rd GBA
3rd Global Benchmarking Award