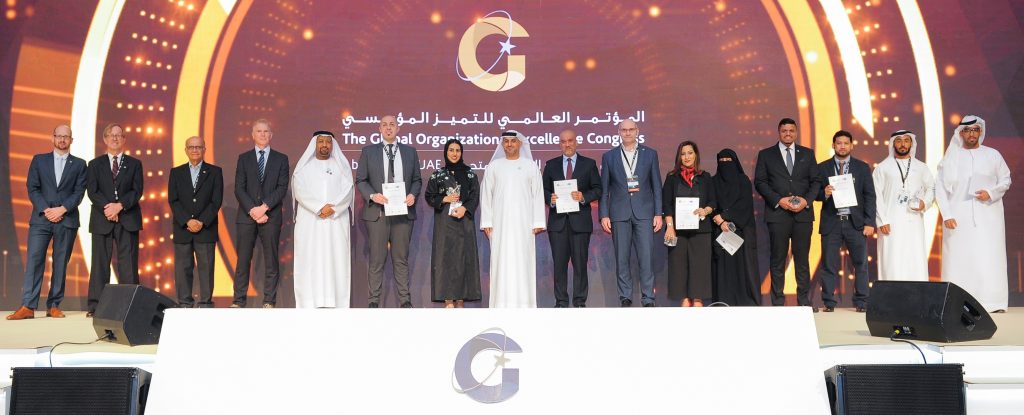 Review of the 6th Global Benchmarking Award
The Global Benchmarking Network (GBN) launched the Global Benchmarking Award in 2012 to recognise those organisations that had integrated benchmarking into their organisation's strategy and processes in order to continuously learn and innovate. The award encourages organisations to share how benchmarking (comparing and learning from others) is an integral part of their improvement and innovation drive.
The finalists of the Global Benchmarking Award 2018 each gave a presentation on their individual benchmarking approach. They were then judged by the GBN's jury on leadership commitment to benchmarking, the pervasiveness of benchmarking, the formality of benchmarking and results achieved.
The announcement of the Global Benchmarking Award winner took place in the afternoon. We thank all finalists for their participation and congratulate the winner in 2018 – Road and Transport Authority!
Get an overview of what benchmarking approach our finalists take and what types of benchmarking are used in their organization.
Bahrain Polytechnic (Bahrain)
Bahrain Polytechnic deals with applied research and consulting as well as with technical and applied vocational training and short courses. They also follow a problem-oriented approach and are active in Bahrain and the Gulf region.
They define benchmarking as a process in which an organisation's internal processes are measured and then best practices from other exceptional organisations are recognised, understood and adapted. Benchmarking does not mean replication, but creating awareness of how much it can learn from other successful organizations.
They already use the comparison of data and information. It is conducted for critical aspects related to the Polytechnic's vision, mission and national strategy for higher education. They also benchmark activities, processes or results.
Dubai Electricity Water Authority (UAE)
Dubai Electricity and Water Authority (DEWA) was formed in 1992 to merge Dubai Electricity Company and Dubai Water Department, which had been operating independently before then.
They already use informal benchmarking through participation in workshops and conferences, networking with external parties, surfing websites and online databases and applications.
As formal benchmarking, performance benchmarking (collecting and comparing quantitative data on the performance of an activity to identify performance gaps) and practice benchmarking (focusing on collecting and comparing qualitative information on how an activity was conducted for adoption or adaptation) are used. The latter can be done through a practice benchmarking project or an outgoing benchmarking visit to another organisation.
Dubai Courts (UAE)
Dubai Courts defines benchmarking as a process of comparing best practices to continuously identify strategies, processes, performance and practices wherever they exist, to understand them and to benefit from them in the continuous development and improvement of performance.
In their organisation Internal Benchmarking, External Benchmarking, International Benchmarking, Process Benchmarking and Occupational Benchmarking are in use.
Dubai Police (UAE)
The Dubai Police (DP) defines the benchmarking process as a comparison of performance with other police forces and international best practices. The Dubai Police identifies the strengths and weaknesses to compare functional activities and areas between DP and other companies that are considered the best in those activities or areas.
Since 2014, the Dubai Police has been applying the TRADE Best Practice Benchmarking methodology – a rigorous 5-step approach that includes the search for and implementation of best practices. DP´s Quality Department has a benchmarking unit that measures the performance (strategy and deployment) of various police forces around the world as well as international best practices in various sectors. Benchmarking activities are also organised in the Annual Strategic Plan.
Saudi Aramco (Saudi Arabia)
Saudi Aramco is one of the largest oil production companies in the world with headquarters in Dhahran, Saudi Arabia.
The Yanbu Refinery Department (YRD) defines benchmarking as the process of comparing performance and best practices between companies within Saudi Aramco with the aim of identifying improvement opportunities for internal benchmarking. It also represents the process of comparing organizations outside Saudi Aramco with external benchmarking in performance.
YRD utilizes four types of benchmarking namely; metric, process, competitive, and strategic. The internal benchmarking is carried using the Metric and Process types while the external benchmarking is carried using Competitive and Strategic types.
We congratulate the winner and wish all the best to the runner-ups.
6th Global Benchmarking Award